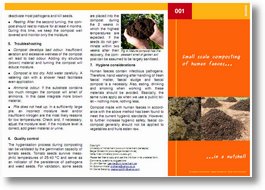 Based on the results of field research and experience gathered by implementing ecosan systems at Valley View University (VVU) in Accra, Ghana, nutshell guidelines have been developed jointly by the University of Hohenheim, Berger Biotechnik and VVU as part of the "Re-use of Ecological Sanitation Products in Tropical Agriculture (RESPTA)"-project.
These 2-page guidelines focus on the operators and users of the different installations, to improve acceptance, maintenance and safety.
Available are:
Further publications from RESPTA are available here.